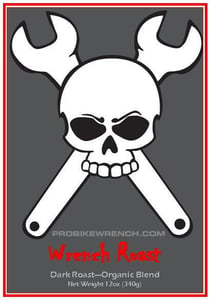 $

12.99
Only the best, boldest coffee does the trick at PROBIKEWRENCH.COM. This bold coffee is a 100% Organic Peruvian Espresso Blend, made especially for PROBIKEWRENCH.COM by Kinetic Koffee. We call it "Wrench Roast."
It's available in Whole Bean or Ground coffee, in 12 oz. bags for $12.00/bag.
Express orders before Christmas will receive a FREE PROBIKEWRENCH.COM Patch Kit and Tire Lever Set!!!